GUARANA
From Amazonia to you, Guarana is a climbing shrub growing on other trees in the Amazonian region. Used by the indigenous people of Brazil for thousands of years as a general health potion.
ORIGIN
Amazonian rainforest
biome,
northern Brazil.
INTENDED USES
Functional foods & beverages, energy drinks, sport drinks, natural juices, yogurts, desserts, jellies, gel in suspension and others.
PROCESSING OPTIONS
FREEZE-DRIED POWDER
SPRAY DRIED POWDER
SEEDS



PACKAGING OPTIONS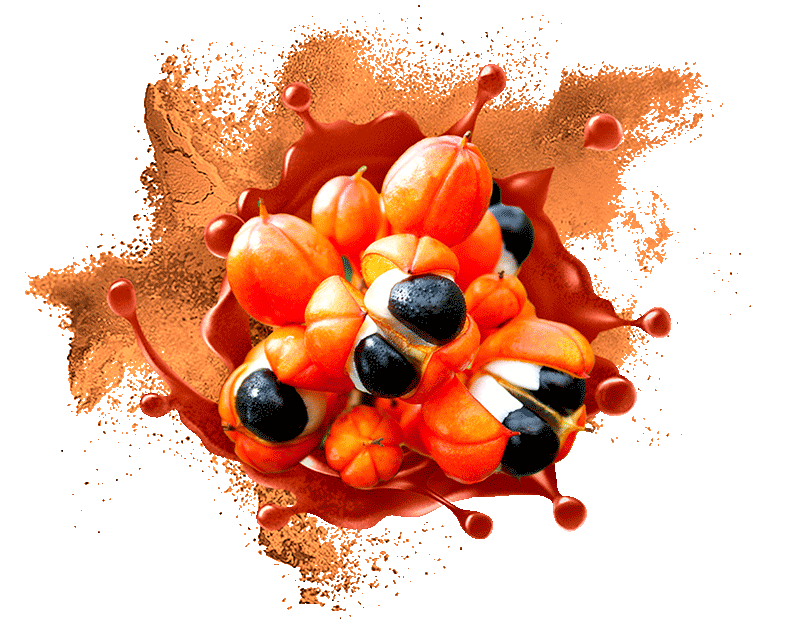 LOW MINIMUM ORDER QUANTITIES

---
WANT TO LEARN MORE?
Guarana (pronounced gwa-ra-naa) is a shrub growing and climbing on other trees within the Amazonian region. Used by the Amazonian indigenous people of Brazil for thousands of years as a general health improving potion, Guarana showed its uniqueness in different ways such as therapeutic, diuretic, and energetic activity. The Amazonian tradition is to harvest the exotic guarana seed, dry, and roast them. Made into a paste with water, guarana is used in various foods, drinks, and medicines.
Guarana is considered a natural ingredient commonly used by health-conscious people for its strong diuretic and pain-relieving properties, vasodilator characteristics and increased physical endurance. The tasty Guarana seeds contain 4-8% more caffeine than coffee as well as traces of theobromine, theophylline and tannins. In relation to its caffeine content, it is also known to reduce fatigue and help in weight loss, making it suitable for prevention of obesity. Regardless of its therapeutic effect, guarana provides long lasting (6-8 hours) stimulation making it suitable for busy hard-working individuals in a fast paced city life.

Guarana affects the central nervous system, preventing arteriosclerosis, fatigue, headache and build-up of muscular lactic acid. Guarana increases energy levels, and physical strength. Improving metabolism, guarana aids in weight loss. Besides alleviating fatigue and headache, guarana acts as a diuretic, stimulating the heart and central nervous system, enhancing mental alertness and memory.
Guarana contains antioxidants and tannins, which help neutralize the effects of free radicals. Improving memory and mental focus, guarana acts as an aphrodisiac, increasing the heartbeat, stimulating blood flow, and cleansing the circulatory system.
---
AMAZONIA BIO
We bring fresh, raw, nutritious products and ingredients from our farmers to you, sustainable and fairly.
CONTACT DETAILS
Avenue de Bale 8a, 1140 Brussels, Belgium
+32 (0) 24450033
relationship@amazoniabio.com
FOLLOW US
Keep in touch with our latest from Amazonia Bio, or get in touch.

.